Last year, I had the opportunity to work with the well known French company CompositeWorks, one of the biggest player in the mega refit yacht, thanks to their Project Development Manager, Mr Christopher Sardo, who hired me for a fantastic work of refit-design.
The global conceptual design concerned the resizing of a motor yacht, from 63 to 70 meters, taking action on all the decks external areas. The result of this work is shown and described hereafter.
"Few pics of the original vessel"
"Before and after concept"
The first step was the transom enlargement; the redesign for a new stern area, with a large beach platform, a stairway on both sides and a beach club at sea level.
"The transom resize and the beach club"
The final result of the stern extension was well appreciated and the request was expanded to all the decks, so to create a well balanced new profile, re-organizing all the external areas and considering  the sun deck as "peak" of the concept design, as needed of a complete new elegant suit.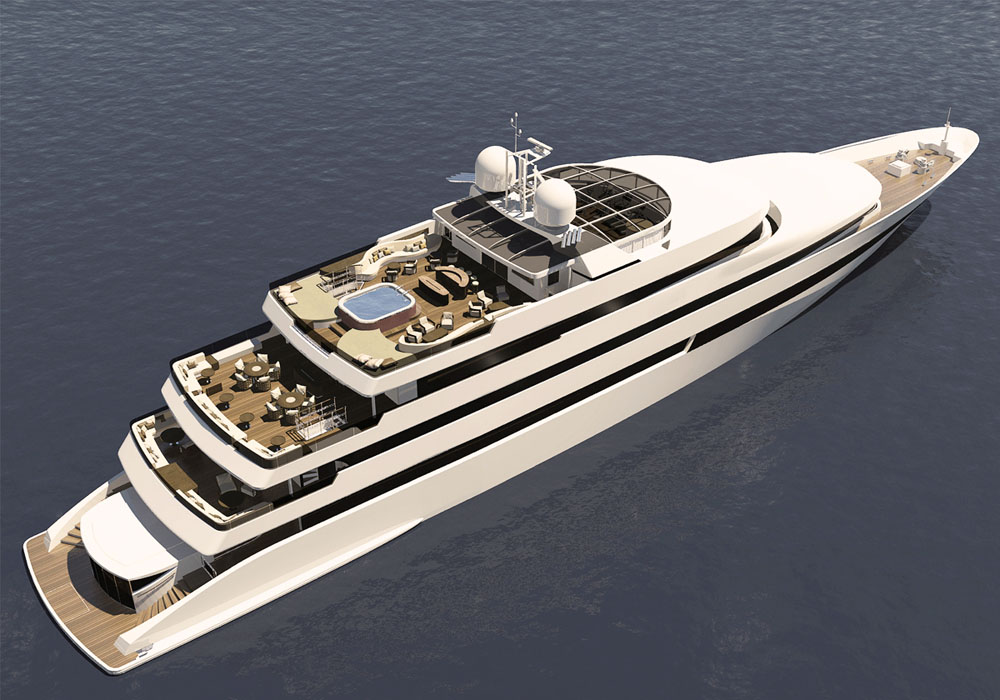 Few ideas were deleted during the feasibility study for to be inside the preliminary quotation. In fact, we resigned the idea for a beautiful external/internal dinner area on the upper deck, with a semicircular sliding window door.
The stern space of the upper deck and the bridge deck were arranged with more seats for beautiful social areas and dinner tables. One important request was to place a large amount of TV screens everywere was possible.
"The new decks extension"
As said above, the peak of the design concept was the new sun deck.
The outdoor area was arranged with winding sofa, sunbed and a big squared pool; however the main work covered the awesome interior gym & healt space, that I solved with a light structure, following the shipyard requests, in order to hang on with the GT predicted parameters.
The height of this refit concept is shown in this final night renderings.